SE 188/187th Street Realignment

Construction crews are entering the final phases of the street realignment project at 188th and Burnside in Rockwood. This realignment will create a safer connection between 187th and 188th Avenues for vehicles and improve pedestrian safety along East Burnside and SE Stark Streets between 185th and 190th Avenues.
To safely switch over the signals at the intersection of 188th and Burnside, beginning October 26, 2011 vehicle movements will be limited to those that do not cross the MAX light rail tracks. This work is expected to last approximately two weeks. See map (below the break) for complete details on the traffic impacts.
Bad weather may postpone or increase the time frame of these traffic improvements.
Traffic Change Map Click map to enlarge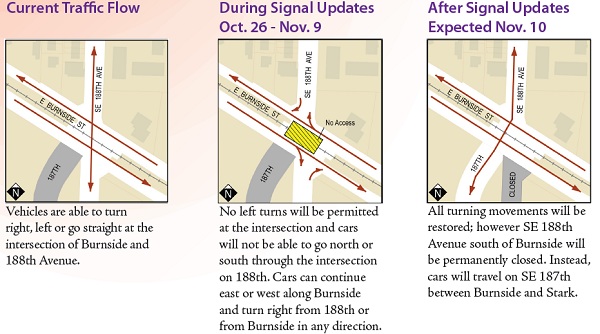 More Info
Contact Mike Green, City of Gresham by phone at 503-618-2492 or email Michael.Green@GreshamOregon.gov.
Website: GreshamOregon.gov/RockwoodInMotion.