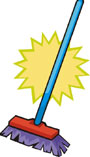 2007 Annual Neighborhood Cleanup July 14th!
9:00am - 12:00pm
2 Locations
Clean-up your home, garage, or yard at a bargain price and in the process support your neighborhood.
"Spring Clean Up" usually means you discover a lot of things you wish you could take to the dump! Well, now you don't have to take your junk anywhere! The dumpster is coming to you! Cost: $10.00 per household
Wilkes East Neighborhood Association presents it's Annual Neighborhood Cleanup planned for July 14, 2007 9:00am - 12:00pm. There will be two (2) dumpster units available, one at the end of NE 169th St & NE Hassalo St at Columbia View Park, and the other in the NE 167th Place cul-de-sac 1 block north of NE Glisan St. Click here for a map of dumpster locations.
This event is open to all residents who live in the Wilkes East Neighborhood. Click here for a map. Come for ice cream and a chance to get to know more neighbors!
ACCEPTED: yard debris, garbage, wood scraps, and general "clean up" items.
NOT ACCEPTED: Hazardous waste, chemicals, paint cans, appliances, tires.
Free Hazardous Waste Disposal
July 21, 2007 - Sam Barlow High School
August 3-4, 2007 - Hollydale Elementary School
For more infomation on Hazardous Waste Disposal, visit http://www.metro-region.org/roundups
Cost: $10.00 per household
The Annual Neighborhood Cleanup a WENA fundraising event. WENA uses the funds to support WENA activities and projects. WENA assists Wilkes East Neighborhood residents on issues such as land use, nuisance, crime, transportation concerns, and more.
For more information or to volunteer, call 503-251-2776, contact WENA, or email info@WilkesEastNA.org