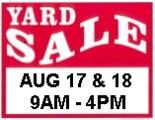 Capri Terrace Annual Yard Sale: Aug 17/18!
The annual Capri Terrace Yard Sale is August 17th & 18th! Last years event was a huge success with many families taking part. Let's make this year's event even bigger! Those families interested in participating should contact Juanita Null at (503) 254-3995 to sign-up! Includes participating home map listing and newspaper ad.
Location: NE 167th Ave and NE Glisan St. Look of the signs! Click here for a map!
For more information or to volunteer, call (503) 254-3995 or (503) 251-2776, contact WENA, or email info@WilkesEastNA.org
See you there!