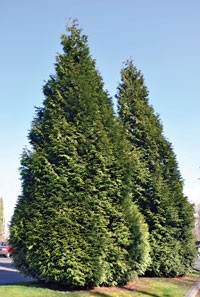 Gresham's Hogan Cedar
Click for details
Join us as we plant
108 Hogan Cedars!
When: Fri Apr 26, 2013 10-11AM
Where: Gresham Saddle Butte
Gresham Saddle Butte Trailhead
SW 19th Drive
Gresham, OR
Get Map!
Join the City of Gresham, the Urban Forestry Subcommittee and volunteers from the youth conservation corp. at Mt. Hood Community College in celebrating the City's official City Tree and 108-year history as a City by planting 108 Hogan Cedars at the Gresham Saddle Butte Trail at 10:00 a.m. and unveiling a new interpretive panel.
More Info?
Contact Tina Osterink at 503-618-2392 or at Gresham Saddle Butte Trail Map that includes trail access points.
Read more about other Arbor Day events and about trees in Gresham.