Community

By admin - Posted on August 2nd, 2007
Tagged:


Johnson Creek



Johnson Creek
Watershed Council's

Watershed Wide
Summer Event

Saturday, August 18th!
WHEN: Saturday, August 18th 2007 9am - 12pm
WHERE: 6 Sites. Click here for a map of locations!
PROVIDED: Gloves, Snacks, Water, and a celebration Barbeque w/live music!!!
Summer is here and that means another summer Clean Up for Johnson Creek. The Watershed Council and partners will be hosting six different sites throughout the watershed
By admin - Posted on August 2nd, 2007
Tagged: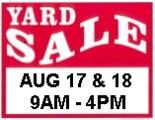 Capri Terrace Annual Yard Sale: Aug 17/18!
The annual Capri Terrace Yard Sale is August 17th & 18th! Last years event was a huge success with many families taking part. Let's make this year's event even bigger! Those families interested in participating should contact Juanita Null at (503) 254-3995 to sign-up!
By admin - Posted on August 1st, 2007
Tagged:
By admin - Posted on August 1st, 2007
FIVE THINGS YOU NEVER KNEW YOUR CELL PHONE COULD DO
FIRST Subject: The Emergency Number worldwide for Mobile is 112.
If you find yourself out of your mobile network coverage area and there is an emergency, dial 112 and the mobile will search any existing network to establish the emergency number for you. Interestingly, the number "1 1 2" can be dialed even if the keypad is locked.
By admin - Posted on August 1st, 2007
Tagged:
Simple steps to protecting yourself
The technology of 'plastic money' has many advantages. But, there are dangers too. Here are a few important tips to help you avoid becoming a victim of credit card fraud.
By admin - Posted on August 1st, 2007







10th Annual
"Rockin Round The Block"
Show'n Shine!

Saturday, August 11, 2007
Downtown Gresham Oregon
Hosted by Northwest Motorsports Association
Entertainment by Rockin' Ron Ruedi and the Hurricanes 50's thru 90's Rock & Roll
Proceeds from this event benefit the Mt Community College Automotive Scholarship Program. Over $83,000 has been donated in the last 9 years!
By admin - Posted on August 1st, 2007
Tagged:
Telemarketing Fraud
When you send money to people you do not know personally or give personal or financial information to unknown callers, you increase your chances of becoming a victim of telemarketing fraud. Here's some helpful tip!
By admin - Posted on July 31st, 2007
Tagged:
Gresham Police Department's 2007 National Night Out


Tuesday - August 7, 2007
6:00pm - 8:30pm
Gresham High School
1200 N Main Ave, Gresham
Free hot dogs, ice cream, lemonade & door prizes!
Learn how to prevent crime to homes, cars and neighborhoods. Free Child ID kits.
By admin - Posted on July 16th, 2007
Tagged:
By admin - Posted on July 16th, 2007
Tagged: