Community-based urban living in
West Gresham's Rockwood triangle. Click to enlarge

Sustainable Cities Year project redefines Rockwood potential.

Proximity to Portland and MAX huge factors.
"Rockwood Boulevard combines social and community goals to transform an isolated and distressed site into a vibrant neighborhood. At the heart of the six arce site is a street lined with local business creating an atmosphere bursting with activity and unique flavor."
Six new designs for Rockwood
University of Oregon graduate students involved in the year-long Sustainable Cities Year program presented six new designs for the Rockwood triangle to an enthusiastic audience at the Gresham Redevelopment Commission (GRC) meeting on Dec 9, 2009. The crowd, which divided into three groups for two presentations and a short Q&A every 20 minutes, liked what they saw.
"Community-based urban living supported by a micro economy of local business" dominated the design themes. Students cited the close proximity to downtown Portland and the importance of the adjacent MAX Blue Line as huge factors in their designs, saying Rockwood is positioned to become a vital and thriving area in West Gresham.
All six designs recognize the importance of the triangle to Rockwood's identity.
Utilizing a "Live & Work" concept with special attention to pedestrian friendly access and a robust local economy, the designs propose a mix of low-rise buildings; some residential, some commercial, and some mixed-use with street-level businesses and residential above. Designs call for 100-482 residential units. Parking is carefully planned. Plans include space for restaurants, retail, offices, a satellite campus, library, community center, and more. All projects support phased-in development.
One design swaps the underutilized "Park & Ride" lot (at 183rd) for housing and creates a dual-use 'plaza' providing weekday commuters parking near the new MAX stations at 188th, and public use on the weekend. There's a design that focuses on a north/south 'boulevard' with a balance of commercial and residential, and a theatre. All designs locate something significant on 'the triangle' between 188th and Burnside & Stark. Another design emphasizes the use of "urban farms" and greenhouses for local residents. Sustainable practices include permeable surfaces, bioswale filtering, green roof technology, and renewable energy.
Each design, supporting documentation, and 3-D models will be compiled and presented to City as a resource for future planning. See designs below.
Rockwood's future looks bright
As the evening closed the audience cheered the students and staff for their inspiring designs. Several in attendance commented on how fortunate it is to have their services for a full year.
Whichever design the City may choose, the future for Rockwood certainly looks bright.
(Now, all we need is the economy to improve)
About the Sustainable Cities Year program
As part of the University of Oregon's year-long engagement with the City of Gresham through its Sustainable Cities Year, students from Professor Nico Larco's Architecture studio "Sustainable Suburbs" have been studying the Rockwood catalyst site at 185th and SE Stark Street (former Rockwood Fred Meyer) and surrounding areas, interviewing local stakeholders, and visualizing the neighborhood's potential with sustainability in mind. The program provides 250 UO students and 14 professors an opportunity to collaborate with the City in a unique way to further sustainable design and planning in what Professor Larco called a "win-win situation."
"There's a tremendous need out there for cutting-edge research into sustainable communities" said Larco. "All city governments across the country are limited by budget cuts" he said, adding "It would not be economically or politically feasible for the City to invest in six different schemes. The classes let the City investigate a range of options it might not be able to do fully on its own". By arranging for this impressive level of cooperation, Gresham and the university are maximizing the use of precious public resources. Gresham is getting ideas it couldn't afford to generate otherwise – and the students are getting training they wouldn't find anywhere else.
Rockwood triangle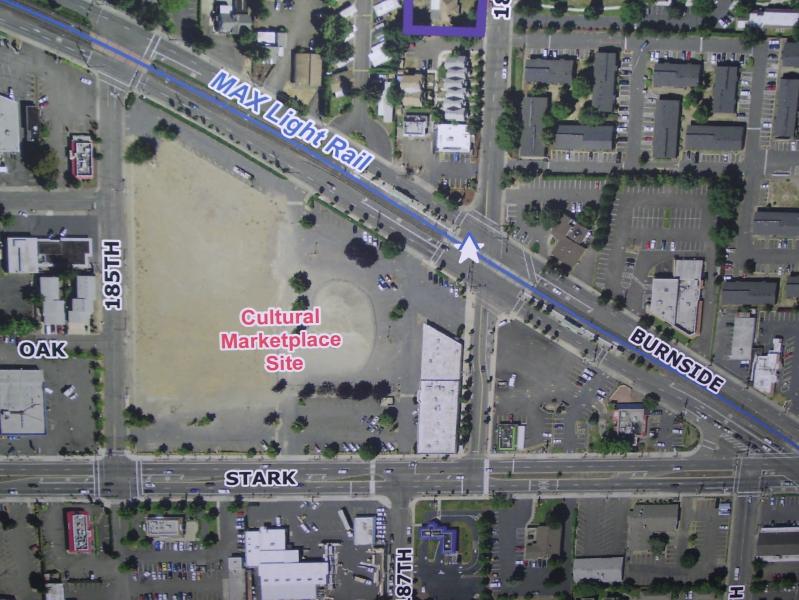 Rockwood redevelopment triangle, aerial view.
Click to enlarge
Related Reading
Design Highlights
Partnership w/ Trimet & City of Gresham.
Swaps existing "Park & Ride" for housing and weekday plaza parking.
MHCC satelite campus on triangle.

Encourages strong local economy.
30,000 sq ft permanent retail surrounding plaza.


Park Place Market
project board
Click to enlarge




Park Place Market
3D model of plaza
Click to enlarge




Park Place Market
plaza design closeup
Click to enlarge
---
38,000 sq ft commercial use.
20,000 sq ft office use.
2,000 sq ft community center.

210 residential units (35 units/acre).
Permeable hard surfaces.
Theatre/music venue at former bowling alley.


Rockwood Boulevard
project board
Click to enlarge




Rockwood Boulevard
town center closeup
Click to enlarge




Rockwood Boulevard
street view
Click to enlarge
---
482 residential units.
80,000 sq ft commercial.
Urban "farms" (community gardens) along 185th.

Courthouse and MHCC satelite campus on triangle.
Extends 185th & 188th north/south.
Phased development of project.


Urban Connections
street view
Click to enlarge




Urban Connections
project board
Click to enlarge




Urban Connections
plaza area view
Click to enlarge
---
Focus on sustainable micro-economy.
Enhanced with walkable streets.
Plaza surrounded by retail w/ small park area.

3-story office units.
3-story live/work units.
Primarily residential use space.


Rockwood Plaza
project board
Click to enlarge




Rockwood Plaza
plaza view closeup
Click to enlarge




Rockwood Plaza
street view
Click to enlarge
---
Leverages redeveloped 188th Max stations.
Family friendly, mainly residential homes.

Focus on smaller retail businesses.
Includes a public library.


Civic Center
plaza street view
Click to enlarge




Civic Center
housing alley view
Click to enlarge




Civic Center
aerial view
Click to enlarge
---
"Work Local" live & work site.
3-story: retail, parking, residence. 100+ homes.
Community Center located at triangle.

109,000 sq ft resident. 109,000 sq ft restaurants.
28,000 sq ft retail. 28,000 sq ft library.
70,000 sq ft community center. 40,000 sq ft court house.


Rockwood Center
project view
Click to enlarge




Rockwood Center
triangle closeup
Click to enlarge




Rockwood Center
3D model view
Click to enlarge