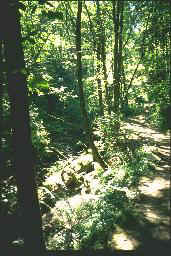 City of Gresham Urban Forestry Forum
Wednesday, May 23, 2007
7:00pm - 8:00pm
Fellowship Hall
Rockwood United Methodist Church
179th & SE Stark St.
Panel:
Jonna Papaefthimiou, Lake Oswego Natual Resouce Planner
Charles Ray, Vancouver-Clark County Parks & Recreation Urban Forester
Margot Barnett, SW Trees Committee, Portland Urban Forestry Commission
Topics:
How can indivudual citizens encourge comprehensive management of our natural resources?
Loss of heighborhood quality of life with loss of trees due to development and improper removal of trees.

How have other cities estalished policies and best practices for development planning, building, and resouce management?
The City of Gresham is gathering data for a 10-Year Master Plan for Parks. The Wilkes East neighborhood Association participated in several input projects with the City; Gresham Code Review Project. Final recommendations are to be presented to the City Council on Tuesday, June 12th at 9:00AM.